DollSpace 01 is a small AGTube channel, created around Halloween of 2016. In her first video, DollSpace did the "American Girl Crafting Challenge" (created by AGChloeandZoe). In this video she states "I decided to create a YouTube channel, to share with others my passion for dolls". She makes DIY, room set up, stop-motion, review, and many more types of videos.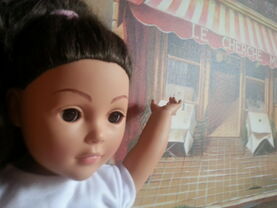 Dolls (in order):
Jenna Katherine Tuttle (Bitty Baby- blonde hair/blue eyes)
Lauren Marie Gordon (Madame Alexander- Key to My Heart) *shown in picture*
Kori Olivia Lucas (Lee Middleton- I Love Sports?)
Amelia Faith Gordon (Glorex Doll- From 1950s)
Patience Anne Tuttle (Our Generation- From Hair to There)
Emily Rose Bayfield (RETIRED AG- MAG #12)
7. Tenney Grant (AG- Contemporary Line)
YOUTUBE: DollSpace 01
INSTAGRAM: @dollspace01_official
Ad blocker interference detected!
Wikia is a free-to-use site that makes money from advertising. We have a modified experience for viewers using ad blockers

Wikia is not accessible if you've made further modifications. Remove the custom ad blocker rule(s) and the page will load as expected.