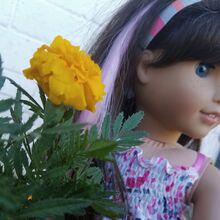 GingerStarburst is an AGTuber and AGIGer dubbed "Ginger" by both herself and her followers. She created her channel on March 27, 2017, and was inspired by MixiePixie7 and PepperAltoids.
Grace Elizabeth (GOTY 2015)
Rebecca Nicole (Beforever)
Maesi Emma (Renamed Kit)
Heather Mackenzie (Renamed Kaya)
Guitar Dreams (May 25, 2017 - June 3rd, 2017)
The Realm of Light and Dark (January 1 - [Canceled])
Spotlight (July 9th - Present)
She is very good friends with PepperAltoids and Clarke The Shark.
Youtube: https://www.youtube.com/channel/UCH17WLaZzjLcRgN6L4vbU7Q
Instagram: https://www.instagram.com/gingerstarburst/