MixiePixie7 is a popular AGTuber who makes mainly stopmotions.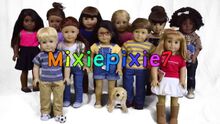 She is good friends with AGPals, AGSnapshots, AGSmiless, Agoverseasfan, to name a few. She is also known for her annual Sophie Awards, which is the first AGTube Awards show to be created. It has been around since 2013 and is hosted by her doll Sophie-Claire Biles.
Molly Elizabeth McIntire (Historical)
Nellie Hope O'Malley (Best Friend)
Samantha Anne Parkington (Historical)
Sophie-Claire Biles (MAG 27)
Emma Katherine Matthews (MAG 25)
Reid Cooper Johnson (Custom Boy Doll)
Cassie Nicole Wilson (MAG 29)
Linzi Faith White (MAG 47)
Saige Lauren Copeland (GOTY 2013)
Brynn Elise Morris (MAG 58)
Asa Lane Johnson (Custom Boy Doll)
Jonah McConnell (Custom Boy Doll)
Jess McConnell (GOTY 2006)
She has a personal YouTube called Micah Cate.
She had a giveaway in January 2017 where she gave away her GOTY 2016 doll.
She also had a giveaway in the summer of 2016 where she gave away five MixiePixie7 photo books.
YouTube: https://www.youtube.com/user/mixiepixie7
Personal YouTube: https://www.youtube.com/user/TheMixiepixie7/videos
Instagram: https://www.instagram.com/mixiepixie7/
Ad blocker interference detected!
Wikia is a free-to-use site that makes money from advertising. We have a modified experience for viewers using ad blockers

Wikia is not accessible if you've made further modifications. Remove the custom ad blocker rule(s) and the page will load as expected.