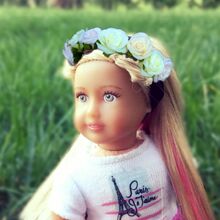 SmallerWorldofAG is an AGtuber who started out in March 2017. Although she isn't famous, her channel is quite unique, because she uses Mini American Girl dolls instead of regular American Girl dolls. She is the first one ever to make stopmotions with the minis. She was inspired by Basilmentos and MixiePixie7 to start a channel. She does AGSM's and AGPS's.
Isabelle Palmer (Mini GOTY 2014)
Saige Copeland (Mini GOTY 2013)
Rebecca Rubin (Mini Beforever)
Grace Thomas (Mini GOTY 2015)
Emily Bennett (Mini Historical)
Maryellen Larkin (Mini Beforever)
Julie Albright (Mini Beforever)
Samantha Parkington (Mini Beforever)
Kit Kittredge (Mini Beforever)
Kirsten Larson (Mini Historical)
Taffy Smith (Mini OG)
Felicity Merriman(Mini Historical)
Kaya'aton'My (Mini Beforever)
She is good friends with Rainbow Paws Productions, who isn't an AGtuber, but does have a few American Girl dolls.
She is 13 years old.
Youtube: https://www.youtube.com/channel/UC1GK4smL2jlHmHYnL2J2zwQ
Ad blocker interference detected!
Wikia is a free-to-use site that makes money from advertising. We have a modified experience for viewers using ad blockers

Wikia is not accessible if you've made further modifications. Remove the custom ad blocker rule(s) and the page will load as expected.